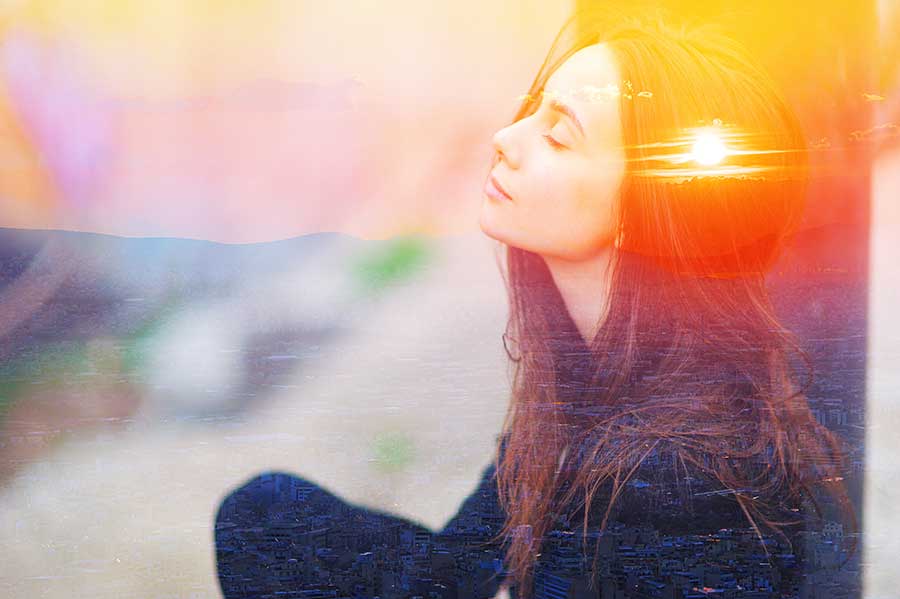 Each of us is a unique, living Being, filled with a unique set of insights, experiences, attitudes, attributes, and skills. Additionally, each of us projects unique temporary self-identities into the world, each with a unique level of sensitivity. 
Some of us are super-empathic, while others can hear through walls. The most sensitive of us have a variety of super-hero-like qualities, which can be a blessing or a curse. If you can fly high, you can also fall hard.
If you're super-sensitive and can feel someone's pain or reality in some way, you might be a Highly Sensitive Person or HSP. HSPs do not have a debilitating disorder, rather, they have an expanded awareness through one or more of their senses. 
The bigshots in the psychology world call this "sensory-processing sensitivity" or "extra-sensory perception." I call it LUCKY! Being highly sensitive invites a wide range of awareness and great depths of experiences. As an HSP or Empath, you'll never wonder if "this is all there is" in life, because you'll always be ingesting or experiencing something super-sad, harsh, beautiful, luscious, troubling, traumatic, deepening, expanding, or wildly fascinating. 
I always say that HSPs and Empaths are People In Technicolor! It's like Crayola gave us a larger variety of crayons to play with. Enjoy them all!
People with these types of traits feel and experience themselves to be more connected to the world around them. While life can be a little challenging for those of us who feel or sense everything everywhere, we each have the ability to clear the air, release the energy, and begin again HSPs and Empaths are NEVER victims. 
You can learn more about being the best HSPs or Empaths you can be by reading my EMPATH OATH. Go for it!
The 12 Gifts Of Highly Sensitive People
1. Expanded, Vibrant Senses
Most HSPs have heightened senses. Their experiences of smell, taste, hearing, touch, emotion, and sight are extraordinary, often superior when compared to the rest of us. This can be a blessing when we work in fields that require specific sense-acuity, but might make it difficult to function or appear to function normally in regular-Joe, everyday, suburban life. 
One thing is certain: being an HSP or Empath will invite feelings and understandings that the rest of the population will only read about. 
With heightened senses, we are better able to understand others. We can feel through to the depth of what someone is feeling or embodying. HSPs can sense things in other people that they might never be able to articulate. 
Being super-sensitive can also be a little challenging at times. Smells can trigger discomfort, gagging, dizziness, or headaches. Taste can either accentuate a flavor you love or one that makes you feel kinda yucky. 
Sounds can be healing and enlightening, but sometimes make us feel unsettled or too anxious to sleep at night. 
Bright lights can trigger physical healings and supernatural awareness, while for some HSPs, they might temporarily experience migraines or slight confusion. 
For some of the most sensitive HSPs and Empaths, clothes can affect how they feel or produce unsightly rashes at times, which can have impacts on positivity, clarity, productivity, intimacy, and communication. 
People with stronger senses often find it difficult to enjoy crowded social environments like restaurants and bars. These over-stimulating environments might take a toll on them and are best to be avoided. 
Some HSP super-heroes can even find it challenging to be around those who wear perfumes, essential oils, and cologne. Some flowers in the wild might also trigger temporary discomfort. And yet, sometimes these smells can open pathways and doorways to awareness and knowledge only found in the other realms. 
Heck, if you're invested in being super-sensitive and you practice meditation, forgiveness, yoga, and similar, you might experience merging with the divine on occasion and have a fast path to enlightenment. Just be careful to stay out of your ego with regard to this aspect. 
Suffice to say, being an HSP or Empath is certainly fascinating! 
 2. Enhanced Audio Responses
Highly Sensitive People have stronger responses to ASMR. The gentle sounds of scraping ears or whispering can cause a sensitive person to get goosebumps and tingles. They often enjoy playing static sounds while they work or sleep to a sound machine. This "white noise" can be incredibly nurturing and calming for HSPs.
Background noise helps HSPs block and ignore the other sounds that interrupt their concentration, clarity, or sleep. This may not be a problem at home, but hotels, social gatherings, and hanging with friends at their homes can result in feeling sad, overwhelmed, drained, and more. After exposure to these environments, you might also be unable to sleep for a time.
When listening to music, sensitive people feel the depths of the artists' intentions. They may laugh or dance wildly, unable to contain themselves. Or they may burst into tears from the music, and have no explanation. 
Our hearing can provoke a rush of emotions within us and give rise to bursts of energy. In the right setting, these abilities can enhance a person's life, while at other times, interfere with their joy and flow.
3. Difficulty in Crowds
With heightened senses, it's no surprise that HSPs prefers to not be surrounded by too many things at once. In malls, around large crowds, and socializing with strangers, sensitive people can find it difficult to focus and communicate. 
Empaths and HSPs can't help but absorb the energies of everything that's happening around them. In a busy food court, HSPs are surrounded by conversations they can't turn off. In extreme cases, they may be forced to put on headphones or sit far away from others. These might be the only remedies to help them feel relaxed, present, and peaceful. 
These highly sensitive souls will most likely hear, understand, and feel empathy for concurrent conversations within their surrounding areas. If asked, they could solve everybody's problems with 10 words or less. 
Seriously, being an HSP is both incredible and overwhelming at the same time. Being friends with an HSP can be wonderfully illuminating or a little challenging now and again. 
4. High Levels of Empathy
HSPs often report feeling more connected to others at an early age. Their fascination with their heightened senses allows them to embody the people they meet. They feel emotions that are beyond their present inner depths. Because of this, they often develop acute understandings of the human condition.
Highly Sensitive People are empathetic and use their natural gifts to solve problems. Because of this, most find it easy to help others, quickly finding solutions to problems other people find challenging. 
The connection an HSP shares with the world allows them to better understand how things are connected. In the right hands, these abilities can shape the lives of those around them.
  5. Frequent Crying
The wonderful world of being highly sensitive can be like a roller coaster at The International Emotions Theme Park. Empaths and HSPs can fall in love and hate within one sneeze. Some of these folks may find it difficult to separate themselves from others – especially after slightly or exaggerated intimate exchanges. 
Dr. Elaine Aaron reports, sensitive people tend to cry more than non-HSPs. This is because they often place themselves in the situations of others. For them, witnessing loss in other people is equal to experiencing those losses first hand. Because of this, sad events and dramatic movies can be both expanding and challenging for the HSP.
If you love to cry, you might be an Empath or HSP. Awesome! The more we feel and cry-out the realities of others, the more we expand and improve upon ourselves. If we can feel into and forgive every aspect in creation, we forgive the same within ourselves – and we expand more regularly into the light. 
6. Difficulty Observing Graphic Content
HSPs experience can sense sorrow and sadness a mile away. If a priest is hearing confession three blocks down the road, an Empath might feel the confessioner's heart. It's that intense! The same can be said for how they can sense, feel, and absorb fear and other types of pain. 
This means it can be challenging to watch horror movies, action flicks, and any content that appears to be graphic or violent in some way. Heck, even a sex scene can make an HSP nervous, anxious, or depressed. 
In extreme cases, these lovely sensitive, and often overwhelmed people, might report feeling the pain of those afflicted. Others may feel queasy or scared when consuming cringy content.  
 7. Struggling Under Pressure
An HSP may be quick to feel overwhelmed, confused, or frozen. Growing up, they may have tended to buckle under pressures of tests, often performing worse than they expected. Their school and work projects may cause them to fail in their homework and deliverables, while experiencing a serious lack of sleep.
As they mature and grow, a Highly Sensitive Person might discover they have personal issues when there are too many challenges at work and too many confusing dynamics at home. 
As such, an HSP can become acutely aware of every missing or challenged aspect in their lives, the composite of which can cause them to spiral out of control, into elation, or into exhaustion. 
When working with or loving an HSP, one might never be able to predict the day-to-day or longer-term trajectories and outcomes!
8. Creative and Innovative
Growing up, sensitive people report having had more imaginary friends, needing and enjoying role-playing games, and having the urge to be continuously self-expressive and creative. Their creativity blossoms when focused on drawings, reading, exploring new ideas, and innovating on something mundane or lifeless. 
As adults, HSPs are often very ingenious, tending to uncover new ways that the world and its inhabitants can improve their realities. HSPs often report having vivid dreams and wandering within their minds, into newly imagined realities. 
HSPs and Empaths might also find it easier to consciously leave their bodies, seeking to explore this realm and spacetime continuum, and others. 
9. Caffeine Sensitivity
For many sensitive people, morning coffee is either an awesome drug, debilitating virus, or simply out of the question. Just a small cup of coffee can send HSPs into a becoming a would, shaking mess. They might enjoy that for 10 minutes, and then they'll be on the floor sobbing into their socks. 
HSPs and Empaths should try to avoid most caffeine and sugar – all because of the crash. Their crashes are 2-10X more elaborate and dramatic than everybody else's. 
Espresso can be better for Empaths because it helps their minds focus. Espresso is also a more feminine and creative experience, whereas coffee usually creates an aggressive state of mind and heart.   
Substance sensitivity doesn't stop there. Many HSPs report increased effects of alcohol, candy, and meat. Some choose to remove these things from their diet entirely. The finely tuned body of an HSP might have no use for stimulants or depressants. The slightest nudge in either direction will disrupt their balance.
If you're an HSP, you might consider exploring Ayurvedic medicine, where it's all about balancing your doshas (or aspects). Your body might require the finely-tuned experience of this ancient modality, the extent of which could help you regain lost energy, set energetic boundaries, and maintain a healthy emotional balance within yourself, for years to come. 
10. Fight Well with Others
Fights and disagreements with close friends or family can prove devastating for those who are deeply attuned to the people around them. An HSP will also carry the emotions and experiences of those they love for a long period of time, often hurting themselves. 
For those who are super-connected, every conflict can lead to sets of visceral reactions. As a fight or disagreement ensues around them, they may even become ill or nauseous.
Because of their deep Empathic natures, they tend to avoid drama and conflict, saving themselves the stress of feeling a loved-one's pain, anguish, sadness, anger, and frustration.
11. Attuned to Their Surroundings
HSPs find it easier to stay focused when working or living in spaces committed to support their current hobbies, tasks, and endeavors. When the energy of the room matches theirs, they might be able to relax a little more. If an environment is dedicated to chaos or play, Empaths can find it it difficult to function, relate with others, or be productive. While open offices can be challenging for an HSP, when working within a secure and quiet space, they will tend to thrive. 
Modern society favors extroverts and busy environments to keep workflow at maximum speed. Sensitive individuals may find they work best when there are no distractions whatsoever. 
12. Often Exhausted
People who are naturally more connected to their emotions and the energies around them might report feeling burned-out out over-extended. Somehow they are unable to turn off their gifts and enjoy their own, private space. 
When HSPs are subject to feeling everything around them, they absorb every person's problems and take them on as their private, subtle-body projections. If they're not careful and forget to release the energies they've absorbed, they will feel drained and exhausted. 
Some of the energies that HSPs consume will feel as though they are abusing themselves. This is a common dilemma among HSPs and Empaths. 
Highly Sensitive People often have to take breaks from society, families, and complex work environments. They continually need the time and space where they can experience peacefulness, clarity, and relaxation. 
HSPs may find meditation and yoga (link) will help them silence the world around them. Others might go camping or detach from society altogether. 
Regardless of their choice, HSP's eventually become overburdened with the world around them and may remove themselves to recharge their emotional batteries, and clear their minds. 
Highly Sensitive People Moving Forward
If you're an HSP, GOD BLESS YOU! It can be challenging, but my gosh, it can also be incredibly illuminating!
As you grow older, you might learn to expand upon your sensitivities and become a coach, psychic, intuitive reader, or therapist. You might choose to help others in these ways or use your sensitivities to expand your soul and life. 
As an HSP, you've been given a 5th sense. This will allow you to experience the world in four or five dimensions, while others are subject to three dimensions.
Whatever your gifts are, whether simple and common, or outrageous and other-worldly, seek to serve others so that you can expand your nature and improve humanities experience while here on the lovely and beautiful planet Earth.