WINNERS ARE ANNOUNCED HERE.
There is no live contest right now.
You may enter your name & email to be added
to our email list for notifications.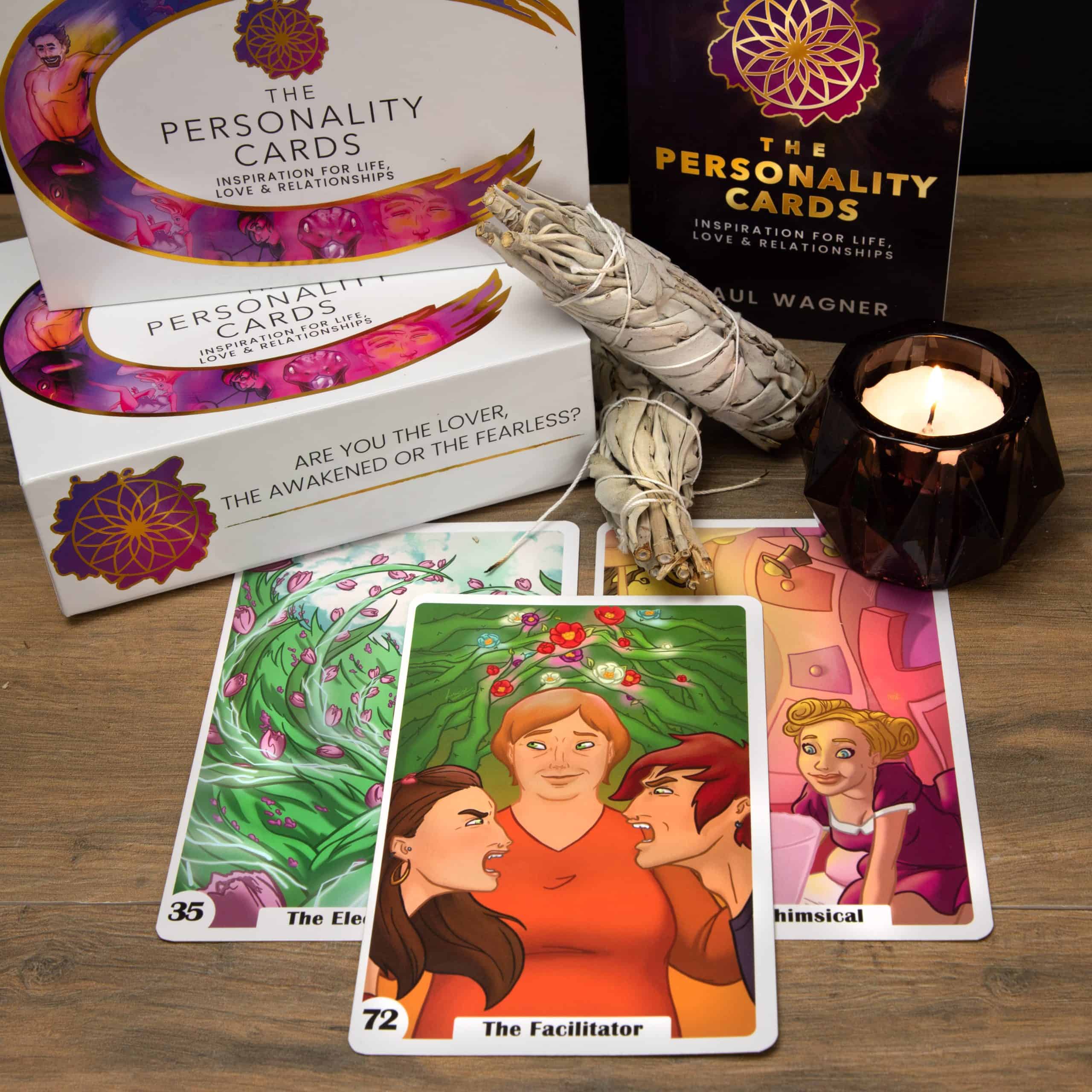 GOOD LUCK! YOU GOT THIS!
—>NO LIVE CONTEST RIGHT NOW.
Enter for a chance to Win! It's easy!
Follow Paul Wagner on Facebook.
Share this post on Facebook.
Enter your name & email below.
Paul Wagner's The Personality Cards are a unique and wonderful oracle, like tarot, but far more powerful & insightful. Included in the luxurious box are 78 beautifully illustrated cards and a 174-page booklet.
A wonderful tool for self-discovery!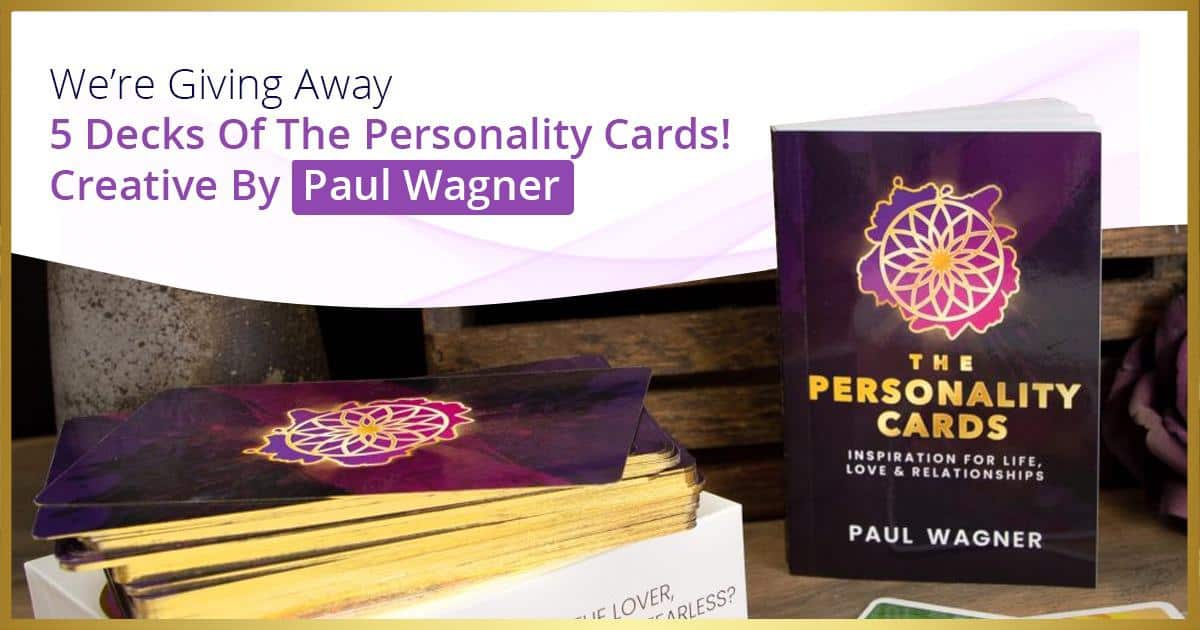 The latest contest closed on Nov 16, 2020.
Contest is open to all US Residents, with no purchase necessary. One entry per household. Winners will be announced on Nov 17, 2020, and contacted via the email address provided.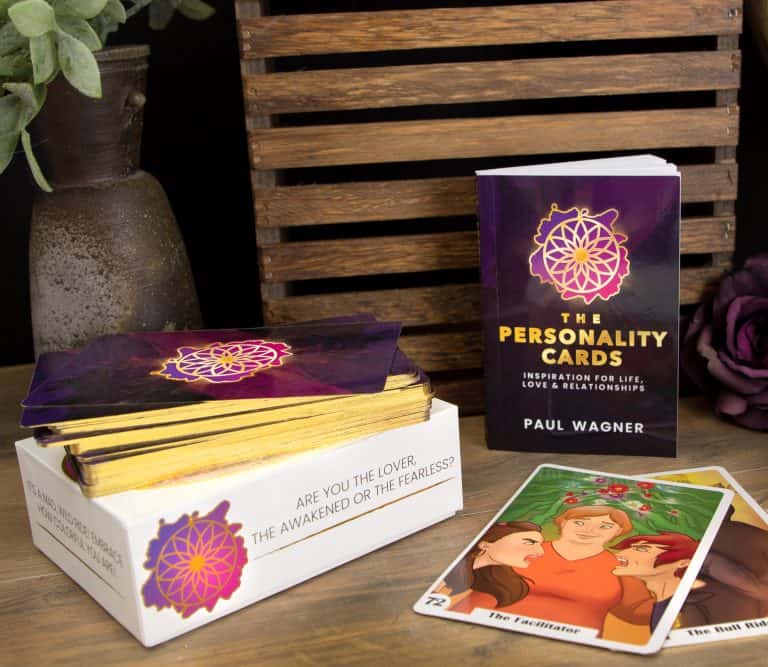 CONTEST RULES
* No Purchase Necessary: There is no purchase necessary and any purchase from Paul Wagner does not enhance your chances of winning.
* Prize Value: The value of the prize is $39.95 plus $7.95 shipping & handling, for a total of $47.90. Winning entrants does not have to pay for anything to receive this product. Learn more about THE PERSONALITY CARDS here: https://www.paulwagner.com/product/the-personality-cards-divine-inspiration-for-life-love-relationships/
* Eligibility Requirements: All participants must be 21 years or older and live in the United States. Please be aware that we will not ship the product outside the United States.
* Contest Entry: All participants must follow Paul Wagner's Facebook and/or Instagram pages, then share the contest-entry post on those sites. Also, participants must fill out a form with their email and name here: https://www.paulwagner.com/personality-cards-giveaway/
* Duration: The giveaway campaign will end on a specific date, noted on the above page, and will end roughly 2-3 weeks after that date, also specified on that page.
* Liability: All entrants must be aware and agree that if they submit for the contest, there is no guarantee they will win or that they will enjoy the product, The Personality Cards. Entrants accept full responsibility for sharing their email address and social media posts, and officially entering the contest.
* Winner Selection: (5) selected winners will be contacted by email and asked to provide a physical address to ship/deliver the product. Winners must respond to our email within 2 business days or forfeit their winnings. If we do not hear back from our chosen winners within 3 days, they will be replaced by other entrants.
* Privacy: All entrants agree to have their name published on Paul Wagner's Facebook and Instagram pages, and other places. Winners' names might appear as links to their Facebook pages when we post the winners.
* Additional Information: We will review all entries carefully for accuracy. All valid entries will be considered and selected by chance. Chances of winning depend on the number of entrants, which we assess might be around 500 people. The algorithm regarding actual chances of winning will be 5 out of 500 or 5 out of however many entrants submit properly to the contest. HummingBear LLC is the sponsor.
Paul, you saw exactly what was happening in our office situation. It was amazing to me how you were able to not only see all the personalities but also help us unwind a difficult situation. Such an excellent experience working with you. Thank you!
Dr. D.
WOW! Such a great experience working with you. Your sessions made me feel so much better. I'm at a loss of words right now. Suffice to say that you helped me regain my confidence and let go of some serious garbage. I was carrying so many unnecessary pieces of guilt and self-hatred. You helped me release these things. Truly a wonderful experience.
Mina W
I love our sessions so far. After a month, I'm noticing just how clear I really can be. I tend to overcomplicate things and get lost in the details. I also forgot how to be a positive person. Working with the rituals and living more in gratitude has been immensely rewarding and eye-opening!
Pete C
Thank you for being such a light and inspiring person in my life, Paul. I was worried about hiring someone to help me because it all felt so unmanageable. You were so sweet with me, holding my hand during a very painful time. Each session helped me break out of my darkness. The difference between today and 3 months ago is almost unbelievable. Thanks for seeing my potential and walking me into it!
Mandy C
Working with you has been amazing. I love how you can see the challenges that my wife and I are having - and you don't blame either of us. You also saw that I have a bit of work to do, which I needed to hear. Now that I'm completely over myself (haha), she and I are able to have very productive conversations. Sometimes it feels like we're just getting to know each other. We appreciate you, Paul - thanks!
Ben T
Thank you so much for hearing me so deeply. You are so kind and generous to me, helping me get past the death of my child and loss of my marriage. The guilt was killing me, but I'm seeing the light again, feeling more loving. Thank you for working through everything with me. I know I'm a challenge. I've listened to the recordings several times. Each time, I am reawakened into how empowering you are for me. How kind and present. Thank you so much. I am SO GLAD I TRUSTED YOU AS MY COACH!
Rachel J