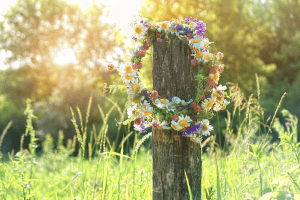 Shutterstock licensed image: Spring is a time of magic, life, love, and rebirth.
SPRING EQUINOX – THE MAGIC OF BIRTH & REBIRTH
Ahhh Spring! The sun outshines the moon, light overcomes dark, and life once again flourishes on the ground and illuminates our skies. We can feel Spring in our bones. Our guts tell us it's time to get out there and create. We want to dance, play, and celebrate creation. 
Spring is truly the embodiment of the Universe's love for us.
Equinoxes mark a time when day and night are equally long. This is rare, as most days only have one throughout the year. The equally long day and night happen twice in twelve months, allowing us to experience palpable and delicious Earthly magic.
The Spring Equinox invites us to be truly reborn. During the fall and winter, we
pause, reflect, forgive, heal, and regenerate. After setting ourselves free from the past, we're ready to flourish.
In case you missed the chance to move on from the lessons of the last year, try this on for size:
REFLECT – FORGIVE – ACCEPT – RELEASE
FORGIVING EVERYTHING,

 
WE TRANSFORM OUR REALITIES.
In the Fall, we ask ourselves:
What has been holding me back?
What did I learn?
What can I forgive?
In the Spring, we ask ourselves:
What can I celebrate?
What can I create?
What can I embrace?
How can I give birth joyfully?
When the Spring Equinox is upon us, it means the Vernal Equinox is here. The Vernal Equinox is also known as the celebration of Ostara. It's one of eight Sabbaths or festivals that make up what some people call "The Wheel of the Year." Every turn of the wheel celebrates endings and births.
YES! It's time to reflect on where you've been and where you're going.
FIVE KEY QUESTIONS TO ASK YOURSELF
What do you want?
What do you love?
Where are you going?
Who's going with you?
What will you do when you get there?
THE VERNAL EQUINOX MARKS PROFOUND MOMENTS IN TIME
During equinoxes, the sun crosses over from one side of our sky to another. In the Spring Equinox, it symbolizes rebirth as well as new life on Earth. Start your Spring Equinox change by permitting yourself to explore all the hidden parts of yourself. By finding and opening the hidden that lives within you, you gain insight into your unique spiritual aspects and gifts – ones you may have never before allowed.
The Spring Equinox is the perfect moment to say to yourself:
I ALLOW MY PAST. I ACCEPT MY PAST. I RELEASE MY PAST. I RELEASE THE ASSOCIATED EMOTIONS TO ALL EVENTS AND IDEAS. I WILL NOT LOOK BACK. I WILL WALK BRAVELY FORWARD WITH LOVE, LIGHT, HOPE, FAITH, AND JOY!
OSTARA OPENS DOORS TO NEW POSSIBILITIES

 
We are fascinated and obsessed with our attachments. We easily become
blinded by our egos, temporary self-identities, emotions, and projections. Upon viewing one social media post, we can lose touch of ourselves and reality. When we allow this to continue for years on end, we put ourselves into vulnerable positions. After all, near the moments of our deaths, we will feel a surge of unresolved emotions, thrusting us toward a threshold that leads to the Beyond.
It takes courage to release everything that has been holding you back and blocking your connection to the Divine.
Why not begin this process now? 
Release the pain from your past and make way for space within you. Doing so, you will feel more whole and available to love.
Forgive yourself, forgive others, forgive everything. 
Try the Ho'oponopono process. Say these things in your mind to either yourself or another: I love you. I'm sorry. Forgive Me. Thank you. 
Repeat these things over and over again until you truly release. Deep and unlimited forgiveness will set you free.
THE SPRING EQUINOX CAN LEAD TO REBIRTH AND LIFE CHANGES
The Spring Equinox is a time of rebirth for all life. We feel the sun's energy penetrate and uplift our spirits. We hear the rippling of fountains and the pitter patter of light rain on our roofs. We have renewed hope and faith. Flowers bloom, Bees buzz, Bunnies appear, and ALL IS WELL!
The blossoming season is the embodiment of the connection and cooperation between all Living Beings. It's during Spring that we feel our connection to every creature and all the luscious, invisible threads that bind us. Every creature rejoices during this time.
AWESOME THINGS TO DO DURING SPRING EQUINOX
The three days during equinox provide you with the opportunity to change your perspective, cleanse your heart, and improve your health. 
Accept yourself for who you are.
Commit to a process that allows you to accept everything as a gift.
Commit to growing virtue.
Commit to living a Dharmic life instead of a Karmic one. Karmic lives involve contracts where you do this for me, I do this for you. Dharmic lives involve spiritual law.
Send love and gratitude to the living Earth.

 

Pray for those who have harmed you.

 

Pray for those whom you love.
Meditate every day.
Find small ways to serve others. A smile can be a tremendous gift to a sad soul.

 

Do a toxicity cleanse using Ayurvedic herbs. Banyan is a wonderful company for this class of medicine.

 

Clean the house.
Empty the attic.
Give away as much as possible to charities.
Lean to cook and garden.
Commit to exercise and yoga.

 

Think of your favorite people and give them gifts that will make their lives better.
The Spring Equinox reminds us to be proactive and disciplined, telling us that infinite possibilities are within us. 
There is no "Other." There is only you experiencing yourself.