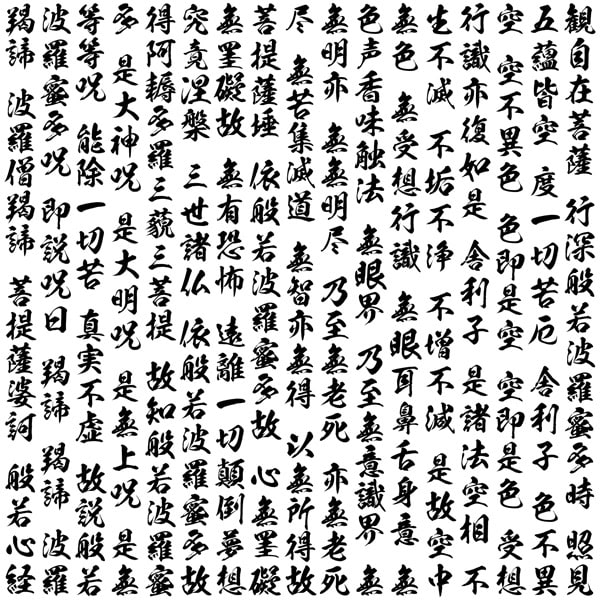 THE HEART SUTRA – ENGLISH
(Prajnaparamita Sutra)
The Heart of Prajnaparamita Sutra
Translated by Tang Dharma Master of the Tripitaka Hsüan-Tsang on imperial command
When Avalokiteshvara Bodhisattva was practicing the profound prajnaparamita, he illuminated the five skandhas and saw that they are all empty, and he crossed beyond all suffering and difficulty.
Shariputra, form does not differ from emptiness; emptiness does not differ from form. Form itself is emptiness; emptiness itself is form. So, too, are feeling, cognition, formation, and consciousness.
Shariputra, all dharmas are empty of characteristics. They are not produced. Not destroyed, not defiled, not pure, and they neither increase nor diminish.
Therefore, in emptiness there is no form, feeling, cognition, formation, or consciousness; no eyes, ears, nose, tongue, body, or mind; no sights, sounds, smells, tastes, objects of touch, or dharmas; no field of the eyes, up to and including no field of mind-consciousness; and no ignorance or ending of ignorance, up to and including no old age and death or ending of old age and death. There is no suffering, no accumulating, no extinction, no way, and no understanding and no attaining.
Because nothing is attained, the Bodhisattva, through reliance on prajna paramita, is unimpeded in his mind. Because there
is no impediment, he is not afraid, and he leaves distorted dream-thinking far behind. Ultimately Nirvana!
All Buddhas of the three periods of time attain Anuttarasamyaksambodhi through reliance on prajnaparamita. Therefore, know that prajna paramita is a great spiritual mantra, a great bright mantra, a supreme mantra, an unequaled mantra. It can remove all suffering; it is genuine and not false. That is why the mantra of prajna paramita was spoken. Recite it like this:
Gate gate paragate parasamgate bodhi svaha!
Gate gate paragate parasamgate bodhi svaha!
Gate gate paragate parasamgate bodhi svaha!
THE HEART SUTRA – SANSKRIT
(Prajnaparamita Sutra)
Oṃ namo bhagavatyai ārya prajñāpāramitāyai!
Arya-avalokiteśvaro bodhisattvo gambhīrāṃ prajñāpāramitā caryāṃ caramāṇo vyavalokayati sma: panca-skandhās tāṃś ca svābhava śūnyān paśyati sma.
Iha śāriputra: rūpaṃ śūnyatā śūnyataiva rūpaṃ; rūpān na pṛthak śūnyatā śunyatāyā na pṛthag rūpaṃ; yad rūpaṃ sā śūnyatā; ya śūnyatā tad rūpaṃ. evam eva vedanā saṃjñā saṃskāra vijñānaṃ.
Iha śāriputra: sarva-dharmāḥ śūnyatā-lakṣaṇā, anutpannā aniruddhā, amalā avimalā, anūnā aparipūrṇāḥ.
Tasmāc chāriputra śūnyatayāṃ na rūpaṃ na vedanā na saṃjñā na saṃskārāḥ na vijñānam. na cakṣuḥ-śrotra- ghrāna- jihvā-kāya-manāṃsi. na rūpa-śabda-gandha-rasa- spraṣṭavaya-dharmāh. Na cakṣūr-dhātur. yāvan na manovijñāna-dhātuḥ. na-avidyā na-avidyā-kṣayo. yāvan na jarā-maraṇam na jarā-maraṇa-kṣayo. na duhkha- samudaya- nirodha-margā. Na jñānam, na prāptir na- aprāptiḥ.
Tasmāc chāriputra aprāptitvād bodhisattvasya prajñāpāramitām āśritya viharatyacittāvaraṇaḥ. cittāvaraṇa- nāstitvād atrastro viparyāsa-atikrānto niṣṭhā- nirvāṇa-prāptaḥ.
Tryadhva-vyavasthitāḥ sarva-buddhāḥ prajñāpāramitām āśrityā-anuttarāṃ samyaksambodhim abhisambuddhāḥ.
Tasmāj jñātavyam: prajñāpāramitā mahā-mantro mahā- vidyā mantro 'nuttara-mantro samasama-mantraḥ, sarva duḥkha praśamanaḥ, satyam amithyatāt. prajñāpāramitāyām ukto mantraḥ.
Tadyathā:
Gate gate pāragate pārasaṃgate bodhi svāhā.
Gate gate pāragate pārasaṃgate bodhi svāhā.
Gate gate pāragate pārasaṃgate bodhi svāhā.
Iti prajñāpāramitā-hṛdayam samāptam.
---
About Paul
Paul Wagner is a Consciousness, Life, and Business Coach, and a 5-time EMMY-Award winning writer. He created THE PERSONALITY CARDS, a powerful Oracle and Tarot deck that's helpful in life, love, and relationships. For years, Paul studied with Lakota elders in the Pecos Wilderness, who nurtured his empathic abilities and taught him the sacred rituals. He has degrees from Boston College in Computer Science and Psychology. Mr. Wagner has lived at ashrams with enlightened masters, including Amma, the Hugging Saint, for whom he's delivered keynotes at Her worldwide events. Paul tours the world lecturing about personal expansion and spiritual freedom. He lovingly offers intuitive readings and inspirational coaching to help you with self-discovery, decision-making, forgiveness, and business. Book a session with Paul.
Paul, you saw exactly what was happening in our office situation. It was amazing to me how you were able to not only see all the personalities but also help us unwind a difficult situation. Such an excellent experience working with you. Thank you!
Dr. D.
WOW! Such a great experience working with you. Your sessions made me feel so much better. I'm at a loss of words right now. Suffice to say that you helped me regain my confidence and let go of some serious garbage. I was carrying so many unnecessary pieces of guilt and self-hatred. You helped me release these things. Truly a wonderful experience.
Mina W
I love our sessions so far. After a month, I'm noticing just how clear I really can be. I tend to overcomplicate things and get lost in the details. I also forgot how to be a positive person. Working with the rituals and living more in gratitude has been immensely rewarding and eye-opening!
Pete C
Thank you for being such a light and inspiring person in my life, Paul. I was worried about hiring someone to help me because it all felt so unmanageable. You were so sweet with me, holding my hand during a very painful time. Each session helped me break out of my darkness. The difference between today and 3 months ago is almost unbelievable. Thanks for seeing my potential and walking me into it!
Mandy C
Working with you has been amazing. I love how you can see the challenges that my wife and I are having - and you don't blame either of us. You also saw that I have a bit of work to do, which I needed to hear. Now that I'm completely over myself (haha), she and I are able to have very productive conversations. Sometimes it feels like we're just getting to know each other. We appreciate you, Paul - thanks!
Ben T
Thank you so much for hearing me so deeply. You are so kind and generous to me, helping me get past the death of my child and loss of my marriage. The guilt was killing me, but I'm seeing the light again, feeling more loving. Thank you for working through everything with me. I know I'm a challenge. I've listened to the recordings several times. Each time, I am reawakened into how empowering you are for me. How kind and present. Thank you so much. I am SO GLAD I TRUSTED YOU AS MY COACH!
Rachel J