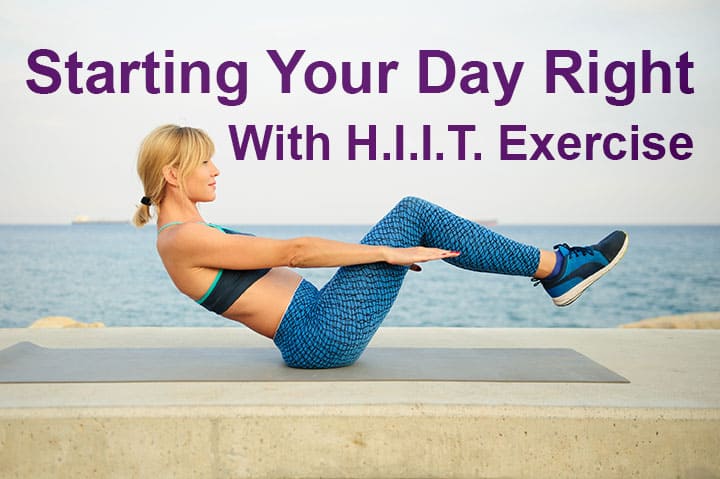 Most people struggle to adhere to an extensive workout routine, and to be fair, it can be difficult to find time to drive to a local gym and exercise everyday. While most Gym-Rats will argue that heavy lifting and high protein is the only proven way to get in shape, there are many different exercises that can provide lasting benefits. Some of them can even expand your self-awareness, empathy, and consciousness. 
If you haven't already read about Kundalini Yoga and its miraculous benefits, consider reading my article on how yoga can be used to improve your energetic-body and vibration. If you are already incorporating meditation, yoga, and a healthy diet into your life, but still lack energy later in your day, you might find yourself renewed by adding a High Intensity Interval Training (HIIT) workout to your morning. 
Not only will this workout provide a much-needed boost and mood-enhancement, the long-term health and life benefits are wonderful. 
You've Been Doing It Wrong
For years, industries have touted the benefits that can be derived from ongoing, endurance training. Running long distances and working out for extended periods of time has long been considered the gold standard for people who are trying to lose weight and get in shape. The truth is that drawn out repetitive exercises are great for developing muscle memory and improving those specific movements. 
Unfortunately, many people are not interested in running times and maxing out their bench press. Most are just trying to improve their health and recover the energy levels of their youth. Unless you are trying to perfect a specific workout, endurance training isn't the best way to spend your precious time. In fact, for some, it can be damaging. 
Instead of running yourself ragged on a bike or treadmill for hours a day, beating the daylights out of your feet, knees, prostate, and 'tuches' (yiddish is so delightful!), consider turning your body into an energy producing machine! Train it to utilize the energy you've already stored. 
I'm talking about the stubborn fat sitting on your muscles, which is akin to that cousin who "stops by," then stays for a year.
HIIT is a workout method that tricks your body into using leftover energy throughout the day – including all that presumptuous fat. People who start HIIT find themselves teeming with energy, replacing the need for caffeine and other stimulants, all of which can be addicting. 
That said, a little espresso and dark chocolate is good for the soul!
The Exercise
Start the day by waking up and diving directly into an intermittent fast. Well, maybe diving is the wrong word, since fasting upon rising means you wouldn't eat anything when you first wake up. 
In Ayurvedic medicine, you might start with a little fruit to start your engines, but for HIIT, we'll focus on the procedures that seem to be working for thousands of people throughout the world.
If you feel wildly famished, consider having a light snack, something like half a banana, a cup of yogurt, or a protein shake. In this case, to honor the fast, you wouldn't have 3 eggs and sausages. Keep the snack small and avoid unnecessary carbs and sugar. The goal is to keep your body in a fasted (or fasting) state when you start the workout. 
Keep in mind that if you fill up on food, especially bread and grains, the workout will only burn the energy from your last meal, rather than the fat stored, the latter of which will lighten your load and boost your energy throughout the day.
Finding a location to workout can be tricky. It can be difficult to separate your personal time from the children, pets, and spouses that tend to drift through the room from time to time. 
If the gym is the only place you can focus on working out, that's fine, use it. Many personal trainers recommend working outdoors in a park or field, but HIIT can be performed in any space where there is enough room to lay down and stretch out. 
A quick search for HIIT exercises will reveal a plethora of fun and exciting routines to follow, but they all adhere to the same simple guidelines.
Here are the basics of a HITT workout routine:
     

Continually perform a series of quick burst-movements for 30 seconds to 2 minutes

     

Engage in a second series of unique movements for the same time period

     

Allow for 30 seconds of active recovery

     

Repeat the process 3 times, 4 if you're feeling feisty
After the exercise is repeated, you are permitted to enjoy an additional few minutes to rest and drink water. Typically, this cycle is repeated with another few exercises to give attention to each muscle group. 
Here is a very basic routine to get you started:
    20 Jumping Jacks
 20 Mountain Climbers
30 seconds of Toe Touches (active rest)
Repeat x3
2 min of rest  
    1 min of Pushups (On knees if too difficult)
30 seconds of Star Jumps
30 seconds Arm Circle (active rest)
Repeat x3
2 min of rest
    20 Lunges
45 secs of Running in Place
30 sec of Butt Kicks (active rest)
Repeat x3
 2 min of rest
You might be thinking that Toe Touches, Arm Circles, and Butt Kicks don't sound like much of a rest, but the goal of this workout is to cycle between moments of higher and lower heart rates. During these times of "Active Rests," don't over-exert yourself. Keep moving, while considering that the burst exercises the main workout. 
By engaging this workout (prior to allowing the heart to come to a complete rest,) the body starts to anticipate the next workout. When the body is tricked into being ready for the next burst of energy, it burns more energy – even while it a sedentary position! 
Imagine that – you burn calories while resting! Isn't that awesome?!  
The beauty of HIIT is that it takes very little time, yet provides lasting benefits throughout the day. By the end of your exercises, your metabolism will kick-start and your body will purge stored fats, rather than cementing your massive breakfast into the linings of your stomach.
After you complete the workout, continue your day as usual. Have breakfast, you'll probably be hungry, and notice the extra energy you have throughout the rest of your day.
What you might find is that your mindset, attitude, meditation, and relationships will all benefit from your HITT workouts. This leads to a happier and longer life. 
The Trifecta: HIIT, Keto, and Intermittent Fasting
While Keto can be difficult, and dangerous, for some. There is no denying the many remarkable benefits you can achieve by shifting your metabolism to burn fat, instead of carbs. If you do reap the benefits of Keto cycles, HIIT can help you recover quickly from the dreaded Keto-Flu. Burst-training in the morning will help flush your body of any remaining carbohydrates that are preventing you from entering ketosis. 
If you can't follow a Keto diet, or just don't want to cut out all the delicious carbs and starches, HIIT is still a great way to take advantage of the body's natural sleep cycle. When waking up, the body hasn't consumed anything in several hours. Residual glucose has been shuttled into cells or turned into adipose tissue, commonly known as fat. In the moment, you feel hungry because there is no readily available energy. By denying food before working out, muscles are forced to turn stored fuels into adenosine triphosphate (ATP). In effect, HIIT exercises train your body to use the energy it has, instead of craving new food to provide more. 
The fact that HIIT helps your body run more efficiently is exactly the reason intermittent fasting boosts all those wonderful benefits. Fasting reminds the body that food isn't always available, and in times of fasting, the body should look inwardly for energy. Anytime energy is required without food, weight loss is the result. 
While HIIT and fasting result in initial weight loss, it is important to avoid sending the body into starvation mode. Let's not get crazy, okay? And if you're not sure how healthy you are – or are not – please check with your doctor. Yes, science is real, unlike the boogie monster and Q. Okay?
Starvation vs. Success
 It can be tempting to deny yourself food to lose weight, but HIIT is only successful if the body is rewarded for the residual energy burned. 
If denied sustenance, the body can enter starvation mode. This is when the brain thinks there is no food in the future and chooses to break down muscles to produce energy. It can go into fight or flight mode. 
It does this to protect the essential fats in the system, keep in mind the brain is 60% fat. Which is why, if anyone calls you a fat-head – say THANK YOU SO MUCH!
With muscles degraded and estrogen levels spiking, fat cells are reserved for emergency stores. The result is a loss of muscle fibers and an increase of fat, something almost nobody wants.
 To avoid the starvation pitfall, and the possible health repercussions, consider eating only moderately sized meals after your workouts. Since it's so quickly metabolized and relatively light in the system, this is the goal of the coveted protein shake. Because there is an energy deficit immediately following workouts, the body replaces the energy lost in our muscles, instead of placing it in storage, your tummy. 
 Like most things in life, moderation is key. Through training, the body will start looking to fat for energy, which increases the energy you have available throughout the day. This also suppresses overeating later in the afternoon. This means, at around 3pm, you might only eat 1 bag of potato chips versus 3!
Long-Term Effects of HIIT
 Many people who start HIIT report feeling more energetic that same day, but through continual practice, the changes can have a lasting, positive impact on heart health, libido, circadian rhythm, sleep, and levels of happiness.
 Starting the day with blood pumping action has multiple benefits. If the workout is done the same time everyday, you might find yourself throwing out the alarm clock. Without even one chirp from your Magic Bird-Watcher's Alarm Clock, your body will be ready to move at the same time it did yesterday. The extra energy gained from burning fat will make you feel awake even if the day has barely started.
 Sure, HIIT focuses on retraining the metabolic pathways of energy, but it also teaches the heart to cycle effectively between moments of high activity and low activity. Any cardio conditioning results in a stronger, more efficient heart. A stronger heart and lower heart rate lessens the chance of heart attack, blood clots, and stroke. 
Together with a mindful diet, HIIT has allowed many older adults to recover energy and health thought to belong to only younger folks. If you're ready to improve your health, attitude, relationships, and productivity, give HIIT a try! You might add 5 minutes of meditation and prayer to your HITT, both before and after. This will triple the overall energetic value you'll be giving to your system. 
STAY POSITIVE AND LOVE YOURSELF! THANK YOU FOR READING! PLEASE SHARE!