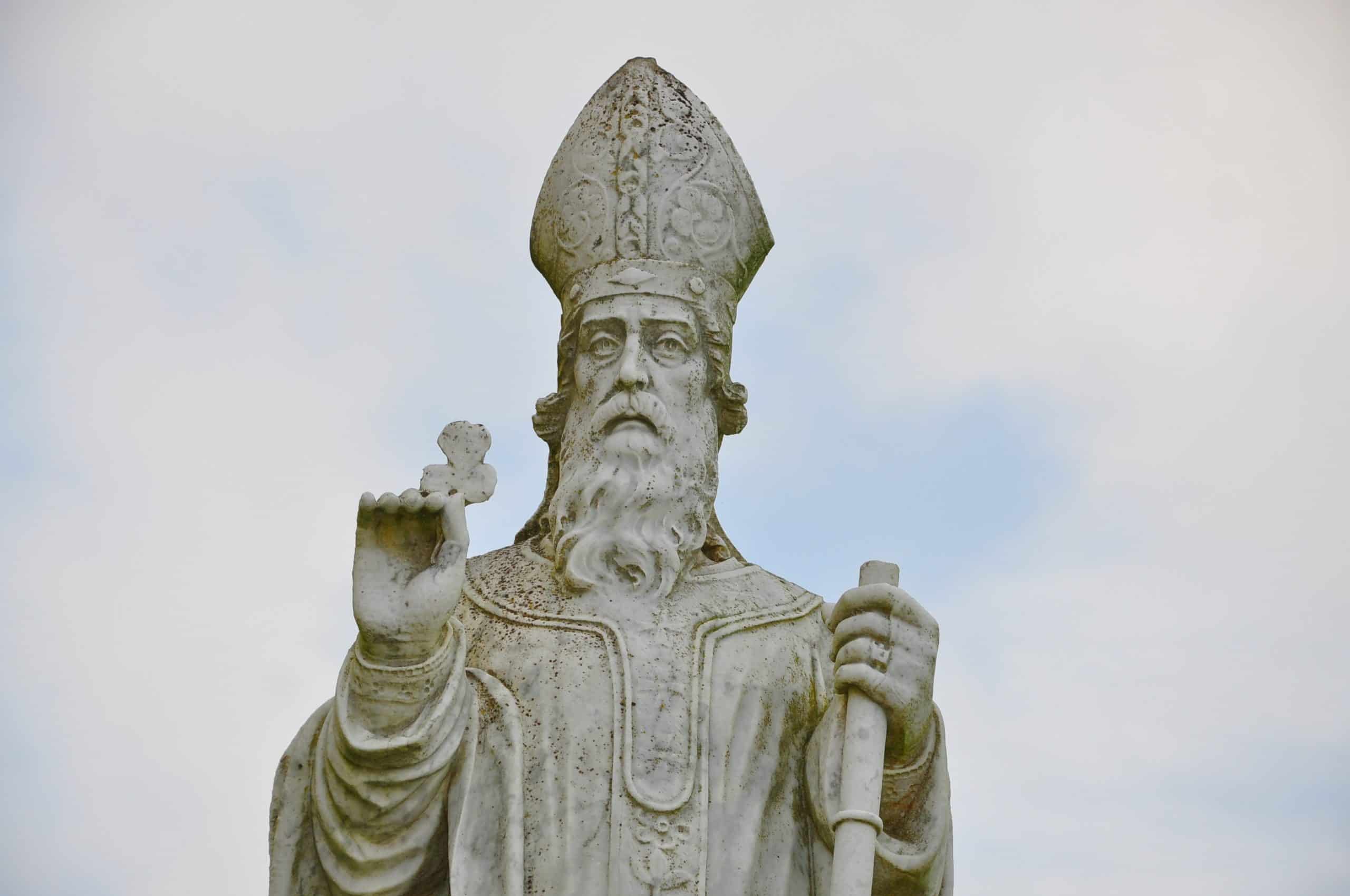 When most people think about St. Patrick's Day, they think of the color green, shamrocks, and drinking Guinness Stout (well, or the local favorite, Murphy's); yet, few know the true story of Maewyn Succat and how he used his superpower of empathy to save the beautiful folks of early Ireland by reducing their suffering.
Early Life
St. Patrick was born Maewyn Succat around 450-500AD. His father, Calpornius, was a decorated Roman-British officer and a deacon at their local Catholic church. Although raised in a Catholic family, it would be years till Maewyn would understand his connection with God and lead others to deepen their own spiritual journeys. 
The earliest reports of the young St. Patrick's faith were not recorded until his stint in slavery, believing that his imprisonment was punishment for his lack of proper catechism and belief.
At the young age of 16, Maewyn was stolen from his family's house in Britain by a group of Irish raiders. He was smuggled into Ireland and forced into slavery for six long and painful years. 
During this time, Maewyn turned to his faith to help him cope with his daily struggles. He regularly had vivid dreams that he used to direct his focus. In his book, Confessio, Maewyn explains that he interpreted these dreams as his way of asking his higher Being, God, to guide him.
One of these dreams came to the 22-year-old slave the night of his escape. In it, he saw a boat waiting for him at the harbor. Following his vision, he indeed found a boat that granted him safe passage back to Britain. After another brief capture, Maewyn was finally reunited with his family.
For many, the story of Maewyn Succat ends when he returned home after his time in slavery. One night, Maewyn had a dream that he received a letter titled "The Voice of the Irish." In the background of his dream, he could hear Irish denizens begging him to walk among them. Unfortunately, in the dream, Maewyn could not read the rest of the letter, but the message would shape the rest of his life. It would also become the foundation of his forever legend.
Maewyn soon traveled to France and trained in a monastery. Twelve years later, under the direction of the Pope, he would return to Ireland as a Bishop. After returning, Bishop Maewyn Succat's goal was to spread Christian teachings and compassion to all he met. 
Bishop Succat brought gifts to Kings and lawmakers, while accepting no gifts in return. Over time, the public recognized his goodwill and compassionate nature and started calling him Patrick, Based on the Latin root for father, patr.  
Miracles of the Father Saint
While St. Patrick was not officially recognized as a Saint until the 1700s, there is no short list of miracles performed during his mission to Ireland. There are several reports of St. Patrick bringing the dead back to life, some of whom had been dead for a year or longer before being resurrected by the great saint.
St. Patrick is also credited for the lack of snakes in Ireland. During a 40-day fast, he is reported to have chased them into the sea after being attacked by serpents. 
Although scholars argue that the climate is too cold in the region to accommodate snakes, many believe the island was infested before St. Patrick arrived there. Some believe the story evolved over time, choosing to look at the tale as a metaphor of how the saint chased evil and blasphemy from a tainted land.
Modern Day Symbolism
 

Shamrocks
This three-leafed national flower of Ireland is found decorating parties around the world. Traditionally, these leaves are worn on the lapel or pressed into books for preservation. St. Patrick used the flower to describe the holy trinity to those who were unaware of the Judeo-Christian belief. 
This lovely saint explained that three equal parts stem from the stalk, just how the Father, Son, and Holy Ghost stem from one's own heart and faith. The lesson was so popular, many associate the foliage directly with the Saint's life and mission. These days, adding a clover to anything qualifies it as a St. Patrick's Day decoration.
The Color Green
In America, you might get pinched if you don't wear green on the 17th of March, but the color green was not the official color of the patron Saint. St. Patrick was known for wearing blue robes, a color that was so popular, it became known as St. Patrick blue. 
Unfortunately, Ireland and Britain's history is dotted with war and strife, which was seen as synonymous with the color blue. Ancient Irish flags are blue, and the original coat of arms of King Henry VIII was blue and adorned with a golden harp. 
Over time, the Irish considered blue to represent the English government and chose the color green to protest English rule. After the Irish Rebellion of 1798, green became a symbol of nationalism and the traditional St. Patrick Blue was lost to history.
Corned Beef, Cabbage, and Potatoes
Traditionally, St. Patrick's Day is a religious feast. Over the years the meal has shifted to a holiday that celebrates Irish heritage and the ancient traditions of this magical homeland. Even with the change in how people celebrate this day, the culinary staples have remained the same.
Foods eaten on this holiday connect participants to Irish heritage, while also presenting access to those in need. Corned beef, cabbage, and potatoes were staples in the relatively poor country.
Before the modernization of farming, cattle was only kept in Ireland for dairy and manual labor. Beef was difficult to find and only available for the rich. The British introduced cattle farming to Ireland and popularized the dish, but the meat still struggled to make it on the table of many families. While Beef wasn't cheap, Ireland was known for its abundance of salt.
Salt was so cheap in Ireland, grains the size of corn kernels were added to beef to keep the meat from spoiling as it matriculated down the socioeconomic ladder. This new preserved beef was named corned beef and became a major export for the country.
The use of potatoes and cabbage is a nod to the many times Ireland faced food shortages. Back then, tubers and hearth vegetables survived the cold and were often a constant on a family's table. The limited resources at the tie led to culinary innovations like Shepherd's Pie and other hearty dishes centered around vegetables.
Leprechauns
The tiny fairy-like beings of Celtic lore are usually found adjacent to rainbows or pots of gold, yet traditionally, Leprechauns are not affiliated with St. Patrick. 
Leprechaun Day is March 13 and celebrates these mischievous beings, who can either bring good or bad luck to those who meet them.
Though most people think of tiny bearded men in top hats, Leprechauns are historically thought to be cranky Beings who protect their own treasures, giving it to those who can catch them. 
Because Leprechauns are celebrated just four days prior to St. Patrick's Day, the holidays have been slowly merged into one, with most ignoring the 13th outright.
Some argue that Leprechauns don't mirror the core beliefs of St. Patrick, but, like the Saint, the Celtic fairies reward those who have faith in higher power. 
I LOVE fairies and leprechauns. It's quite remarkable when one avails himself to you. Seek them out and surely they will appear before you!
St. Patrick's Day In The United States
While the purpose of this holiday is to celebrate Irish Heritage, most of the modern practices were developed in the United States of America. During the great Potato Famine, millions of Irish migrated to metropolitan areas like New York, Chicago, and Boston. With them, these immigrants brought their own cultures and blended them with the preexisting colonial lifestyle.
The earliest parade was thought to originate in Boston, but in 2018, a study at USF discovered the first St. Patrick's Day parade may have been celebrated in 1600 in St. Augustine, Fl. Currently, there are hundreds of St. Paddy's parades celebrated around the globe.
Since 1962, Chicago has dyed the cities central river green for St. Patrick's Day. Before the first ceremony, the city would annually test sewage levels by adding dye to local water. It's rumored that a rogue group of plumbers dumped a large quantity of the dye into the river as a harmless prank, but a long-lasting tradition was born from their fun!
The massive volumes of Irish immigrants who had moved to Chicago had called for larger celebrations for the Saint. The city responded by annually dying the river to illuminate and honor Irish pride and culture.
The Core Beliefs of St. Patrick
Like most Masters and Gurus, St. Patrick was born with a different name. As he traveled around Ireland and shared his beliefs, people whom he healed and touched, later renamed him. 
St. Patrick selflessly helped those in need and cared not only for the physical needs of others, but he nurtured the spiritual connection he knew they lacked. Ol' Paddy's love may have been watered down throughout the years, but through the ceremonies, parades, shamrocks, and Saint Patrick's Day Catholic masses, the saint's message of love, healing, community, and religious fervor remain in tact and as potent as they were back in the day.
Calling out to St. Patrick and other saints and Light-Beings, we acknowledge our connection to all beautiful and loving Beings throughout spacetime. Invoking a saint, guru, master, or avatar helps us connect with the light and embed into our lives. 
Hail St. Patrick! With Love And Loyalty, We Invite You To Fill Our Lives With Hope And Goodness!